9 Women Alumni of MES who have made Our Nation Proud
In the past few days, the Student Council of Pillai College of Engineering celebrated the extraordinary achievements of 9 women who have made the nation proud. To conclude the series, we are proud to share the achievements of some of our alumni, who have excelled in their respective fields.
Ayonika Paul

Having completed her BE in 2014 and ME in 2016 from PCE in Electronics, Ayonika represented the country in Rio Olympics.
She won the Silver Medal at the Commonwealth Games 10 Mtr Rifle Shooting Championship in Glasgow (UK), and the Bronze Medal at Worldcup Rifle Shooting Championship held at Maribore (Bosnia). Owing to her milestones, she was awarded the prestigious Shiv Chhatrapati Award from Government of Maharashtra.
Poornima Seetharaman

Graduated in Information Technology in 2005, Poornima has been a part of the Gaming Industry since 2006 and has worked with some of the best names, including Indiagames (Disney India), GSN Games, Square Enix and Zynga, where she is currently working as the Director of Design. She is a WIGJ Hall of Fame Winner, and is in process of setting up a Womxn in Games Community. Moreover, she is also a Visiting Faculty, Project Consultant and Curriculum Committee Member at National Institute of Design.
Anita Gupta

Did you know that the Global Operations of Instagram has been headed by a PCE alumnus? That's right, Anita has been working at the Facebook group as a Senior Program Manager and is working in the Global Operations team. Previously, she was also a part of Uber as a Program Manager. Graduated in Automobile Engineering in 2015, Anita has completed her Executive Education from Harvard Business School.
Noopur Jhulka

Senior Director at UST in their London Office, Noopur has been a dynamic business leader and works for F500 companies. She is also a member of Forbes Technology Council and has completed her Executive MBA from Harvard Business School.
Asha Arun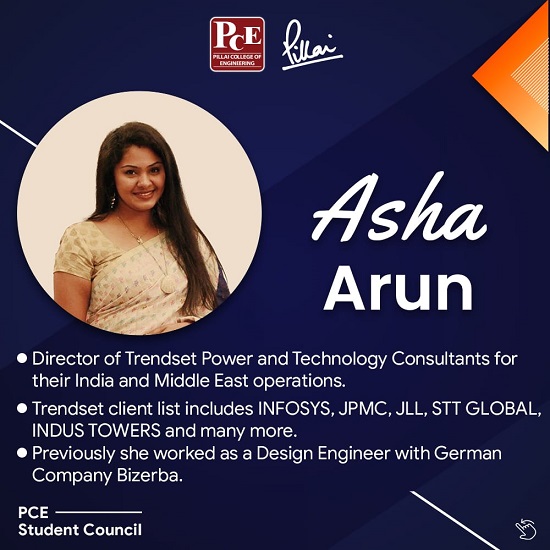 Asha completed her BE and ME from Pillai College of Engineering in Electronics and is currently working as the Director of Trendset Power and Technology Consultants for their India and Middle East operations. Trendset client list includes INFOSYS, JPMC, JLL, STT GLOBAL, INDUS TOWERS and many more. Previously she has worked as a Design Engineer with German Company Bizerba.
We hope that their journeys inspire we all to work towards our dreams!!!