Excellent Results of IGCSE 2019-21
"We are what we repeatedly do. Excellence then, is not an act, but a habit."
Who can prove it better than our own students, who have been with us for almost a decade and even beyond? Moreover, the dedication and compassion of teachers towards their students has fostered a sense of willingness in students to not only learn but also to bring about a change in their personal development. DPGA congratulates each and every student for this stupendous performance and appreciates the hard work of teachers even in these trying times.
Congratulations to our learners for their splendid achievements and a hearty gratitude to our teachers for their support and guidance to the students, in what has been an unparalleled year.
Hearty Congratulations students! Keep up the good work! We are so proud of you!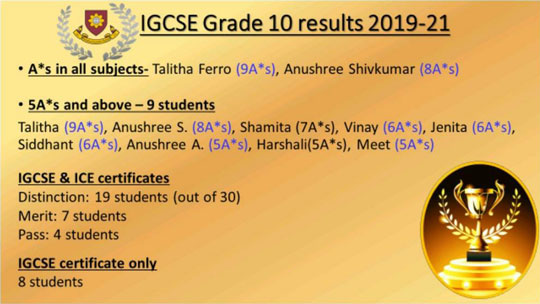 It is with great pleasure that we announce the IGCSE school results that we have received today. We are delighted to report that our students and teachers have demonstrated excellence in achieving 'A stars' (A*) and 'A', in almost all the subjects. Students have mostly acquired 6A* and 'A' out of the 7 subjects chosen.
The course that began in April 2017 with their grade 9 and culminated with the April end exams in 2019 of Grade 10, shows our progress scores which have again placed DPGA on a higher ladder in comparison to the other CAIE schools and other schools of national & international boards. While the students have burned the midnight oil to achieve this excellence, these results are a testimony of the hard work, dedication & perseverance of our teachers too, in preparing our students for their onward journey of IBDP and other programs. With the results of a couple of other subjects remaining to be released (International Math & Spanish), in August, we hope to add to the stars of these scores. We take this opportunity to congratulate you dear parents & students and as we continue doing our best to build up the community and a better world, may our students continue to excel with us and may God continue to bestow His choicest blessings upon us all.