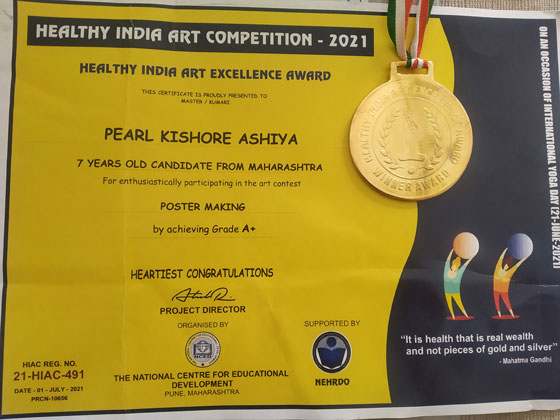 Healthy India Art Competition 2021
Hearty congratulation to our student Pearl Ashiya of class 2B she won Gold medal in National level competition, Healthy India Art Competition-2021 in Poster making. This competition is organised by National Education and Human Resource Development Organisation and National Centre for Educational Development.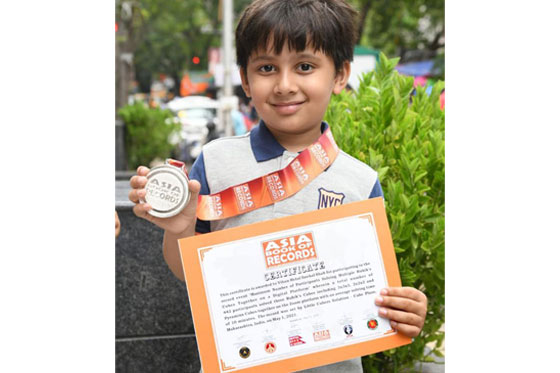 Asia Book of Records
Hearty congratulations to our student Vihan Shah from 2C for setting a record in Asia Book of Records India Book of Records.
Vihan has won this achievement for solving 3 Rubik's Cubes (3*3*3, 2*2*2 & Pyraminx) together within 10 minutes !!
This event also had Maximum young participants (440) out of which Vihan was the achiever. His picture with the Member of parliament, Shri Gopal Shetty – who is also a parent of DPGA.
Proud of you, Vihan! 👏🏼👏🏼👏🏼
Friendship Quiz Contest
Congratulations to our student Ms. Nitsa K. Berde for winning the 2nd Korea – India Friendship Quiz Contest. This event was organized by the Korean Cultural Centre India. Embassy of Republic of Korea. We wish Nitsa continued success in all her future endeavours.
International Hindi Poetry Competition
DPGA student wins International Poetry Competition! Our IBDP 1 Student Juhi Purohit made us proud by securing 3rd position at the International Hindi Poetry Competition organised by NPS International School, Singapore. The competition was held on the 20th of March with more than 20 participants, Judges by Professionals.
National Level Art Competition
DPGA student Theodore selected for the National Level Competition.
After winning the State Level Gold Championship in the 'All India Swachh Bharat Art Competition', our student Theodore D'souza from Early Years Middle C has now been selected for the National Level competition. Based on the theme, the selection was carried out by the "National Education and Human Resource Development Organisation" for the 'National Level Competition of All India "SWACHH BHARAT" Art Competition' for the year 2021.
Way to go, Theo!
We are all so proud of you.
https://m.facebook.com/groups/1203387926764516/permalink/1210634149373227/?sfnsn=wiwspwa
World Toppers
World Achiever at DPGA
We at DPGA are delighted to share that our student of Grade 8 Dhruva Shah is the youngest kid in the world to become a WhiteHat Jr. Certified Game Developer. WhiteHat is an organisation by the alumni of Google, Microsoft, Amazon, Intel and discovery. Dhruva has been awarded for his exceptional skills and outcomes in game development with deep UI/UX interface. WhiteHat has congratulated the school for playing a pivotal part in Dhruv's success and for the school's incredibly thorough grounding in logic and design principles. Hearty congratulations to Dhruva and his family too. We are proud of him. We wish him all the success in all his future endeavours!
Youngest Achiever Jury Award
Hearty congratulations to our grade 9 student, Pooja Valotia, who has won the 'Youngest achiever' jury award at the national Chetak festival for her art work- horse sculpture. Proud of Pooja, her parents and our art teachers.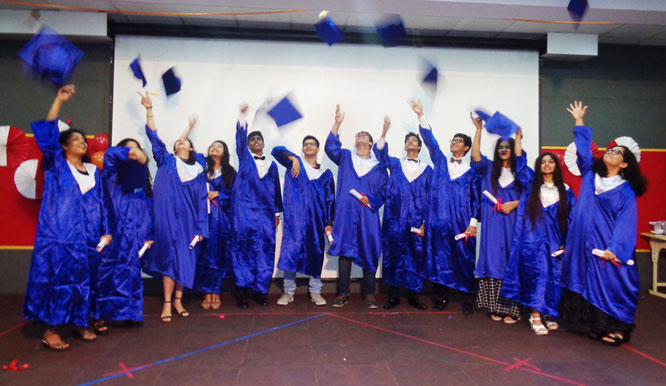 DPGA World Champ – Jiyaan Mehta
Jiyaan Mehta has made the DPGA community proud with a series of achievements mentioned below:
Guiness World Records
Participated in the longest chain of roller skaters consisting of 371 participants and achieved 1st position in Shivganga Roller Skating Club (India) in Karnataka on 31st May, 2017.
Participated in largest 'Skatethon', a combo of skating and running wherein 426 participants performed for 51 hours at Shivganga Roller skating rink starting 15:30 hours on 1st June, 2017, and ending at 18:30 hrs on 3rd June, 2017. This 'Skatethon' was also recorded by Global Records Certificate; Asia Book of Records and India Book of Records.
Participated in record breaking skating event for 3 hours, on 20th August, 2017, at Maharashtra Mandal Sports and Education Complex, Pune organized by 'Skatethon' and 'Waveboard Sports Maharashtra association'. He has won a 'World Record Medal' for participating and winning the event.
We, at DPGA are proud of you Jiyaan and we wish you all the best in your future endeavours.
Aarav Mehta
Grade: Middle – B
Participated in the record breaking skating event for three hours on 20th August, 2017 at Maharashtra Madal Sports & Education Complex, Pune organized by Skateathlon and Waveboard Sports Maharashtra Association. He has qualified for the next level, the event for which will be held on 20th October, 2017 in Karnataka.
We wish him all the best & look forward to seeing him achieve the accolades.
Aarav's name is now in the "GUINNESS BOOK OF WORLD RECORDS" in the category of 'Record breaking events' all over the world.
Karthik Dogi
Karthik Dogi from Grade 1-D has got a distinction in grade IX International Standard of Abacus Mental Arithmetic Proficiency Exam.
He has also bagged a place in EL 1 level in the 12th National Level Abacus and Mental Arithmetic Competition held at Bangalore on 29th January, 2017.
We are proud of his achievements and we wish Karthik Dogi success in all his future endeavours.
Marrs Play2Learn
We are proud to announce the achievements of our students from Early Years Lowers, Master Hridaan Shah and Master Vihaan Shah. They have not only qualified at the Preschool and Inter School Championships with an 'A' grade, but Hridaan has also participated at the National level and was honoured with a trophy.
We congratulate our students and we wish them success in all their future endeavours.
Anaisha Mehta felicitated for National Level Achievement
Ms. Anaisha Mehta from Early Years Lowers was felicitated by Dr. Sharda Sharma in school, for having won 2 medals and 1 trophy in various levels of Marrs Play2Learn Exam.
Anaisha has won 2 medals in Marrs Play2Learn exam at Playgroup Level and interschool level. It is a matter of pride that she has qualified for interstate level. Having cleared that, she has given National level prelims exam in August 2017. She has received a trophy for having reached this level. Structured in the form of exciting rounds (oral, written and activities) Play2Learn carnival gives an opportunity to be spontaneous while the child's natural abilities are evaluated.
We, at Dr. Pillai Global Academy, are proud of Anaisha and we wish her all the best as she endeavours to achieve nothing, but the best.
International Championship
We at DPGA – Borivali, take pride in announcing that our IBDP XI student Mr. Jeet Patel has won the International Championship in Chess Boxing against Russia in the finals.
Event Details:
Winner: representing India in 'World Amateur Chess Boxing Championship 2017' organised by the 'World Chess Boxing Organization'
Category: Senior Men Heavyweight
Quarter Finals: win by TKO against Italy
Semi Finals: win by KO against India-A
Finals: win by TKO against Russia.
Hearty Congratulations to Jeet!
National Championship
We at DPGA – Borivali are proud to announce that our IBDP XI student Mr. Jeet Patel has won National Championship in Boxing.
Event Details:
Federation Cup – 2nd All India Chess Boxing Championship (2017) – representing team Maharashtra.
Winner (National Champion) in Junior Boys (under 17) heavyweight (85 – 90 kgs) category.
Total 9 states participated in the event.
Total entry of 14 teams coming from different parts of India.
Total 3 matches; winning by checkmate in the first round
Qualified for the World Chess Boxing Championship 2017 representing India; to be held in April 2017.
We wish him all the best for the upcoming championship.
You may send your wishes and blessings directly to Jeet on his email address & motivate him.